Our commitment to student safety
We're working hard every day to keep our students safe and secure. From campuses to corporate offices to community activities, all of us at Kamehameha Schools are committed to the well-being of all of our keiki.
Keeping haumāna safe
Providing children a safe learning environment is our kuleana. More than a priority, it's a value, and one shared by every person at Kamehameha Schools. This is why we have expanded employee training, enhanced campus policies and procedures and identified more ways to reduce risk to our keiki.
More on prevention »
Responding with care
Whether you are a student, faculty, staff, parent or family member, it's critical you have access to the people who will address and resolve your issues of concern. Building a system of trust requires consistent demonstration that the right actions are taken immediately. At Kamehameha Schools, we've implemented hotlines for help, mandatory reporting protocol and access to expanded medical services.
More on response and healing »
Striving to be our best
Pains of the past and concerns about the future affect us all, making community listening and learning essential. Learn about how KS is establishing best practices in student safety and well-being with the insight of an expert advisory council and with your input via our new commenting feature.
More on how we're listening »
---
Spotlight on safety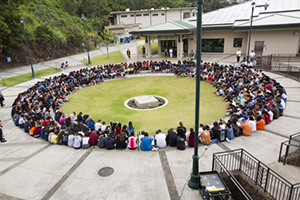 Standing in solidarity with Marjory Stoneman Douglas High School and educational institutions across the country, KS haumāna and staff took part in March 14 walkouts supporting gun violence prevention.
News and updates
---
---
---
---
---