Volunteering
Kamehameha Schools Kapālama values the contributions of volunteers and encourage our KS ʻohana to serve in order to help enrich the overall educational experience of our haumāna. To maintain a safe learning environment for students, staff, and volunteers, Kamehameha Schools requires that individuals submit the following applicable requirements:
Application
To be approved as a volunteer, you must first complete the KS Application to Volunteer that can be found HERE.
Please note that background checks are required. Activities selected should accurately represent your volunteer participation interests for the entire school year, please make your selection(s) appropriately.
If you have any questions you may contact our office at kskvolunteer@ksbe.edu.
Background Check
A criminal history background check may be requested based on the type of activity or frequency of your participation. See matrix below that outlines the requirements based on volunteer activity. If you are asked to consent to a background check, the following provides you with information about KS' volunteer background check process:
KS partners with HireRight, a leading provider of background check services. KS uses HireRight to conduct new hire, employee and volunteer background checks.
The process is conducted entirely online.
You will receive an email containing a secure link directly from HireRight.
Click on the link provided and create a password.
Input the required personal identifying information and consent to the background check process.
The background check process includes a 10-year nationwide criminal conviction search, a Social Security Number trace, and a National Sex Offender Registry search.
On average, results take 1-2 weeks to be returned. We will notify you if any result of your background check excludes you from participating as a volunteer with KS.
Note: Any volunteer that has successfully completed a criminal background check through KS within the past three years may be allowed to submit a criminal history self-declaration form in lieu of a repeat criminal background check.
If a self-declaration form is used for previously cleared volunteers, a name search will be conducted through the National Sex Offender Registry public website.
Volunteer Training
Volunteer training is an annual volunteer requirement, provided through our online training platform called Ka'i Hana.
Volunteer training for the 2023-2024 school year is now available.
This is an annual requirement and completion of this course will be valid through July 31, 2024.
The following provides you with information on the volunteer training:
Register for the online training course at https://ks.litmos.com/self-signup/
Use code: kskvolunteers2324
Check your email with instructions to login
Email will be from Kamehameha Schools
Subject line: "Kamehameha Schools Team Update"
Click on the link provided in the email
NEW USERS: Follow directions to set up your Kaʻi Hana account by confirming your name and creating a password. (Only fill out sections 1 and 2, skip the rest)
REGISTERED USERS: Login with your username and password that you previously created.

Note: your username is your email address. If you do not remember your password, send an email request to the Volunteer Program Coordinator (info below) to reset your password.

Complete the required course entitled "Ensuring a Safe Learning Environment 2023-2024."
Tuberculosis (TB) Clearance
TB clearance is required for volunteers who anticipate having contact with K-12 students for more than thirty days cumulatively within a twelve-month period. TB clearance must be issued after age 16 years or within twelve months prior to starting. Documentation of your TB clearance should be re to the Volunteer Program Coordinator (info below) if required.
COVID-19 Guidelines
Kamehameha Schools continues to maintain health and safety measures to prevent the spread of COVID-19 and are applicable to volunteers. Please be aware of and follow these guidelines when volunteering on-campus or at a Kamehameha School event.
Contact Information
If you have any questions regarding volunteering with Kamehameha Schools Kapālama, please feel free to contact the KSK Kapālama Volunteer Program:

kskvolunteer@ksbe.edu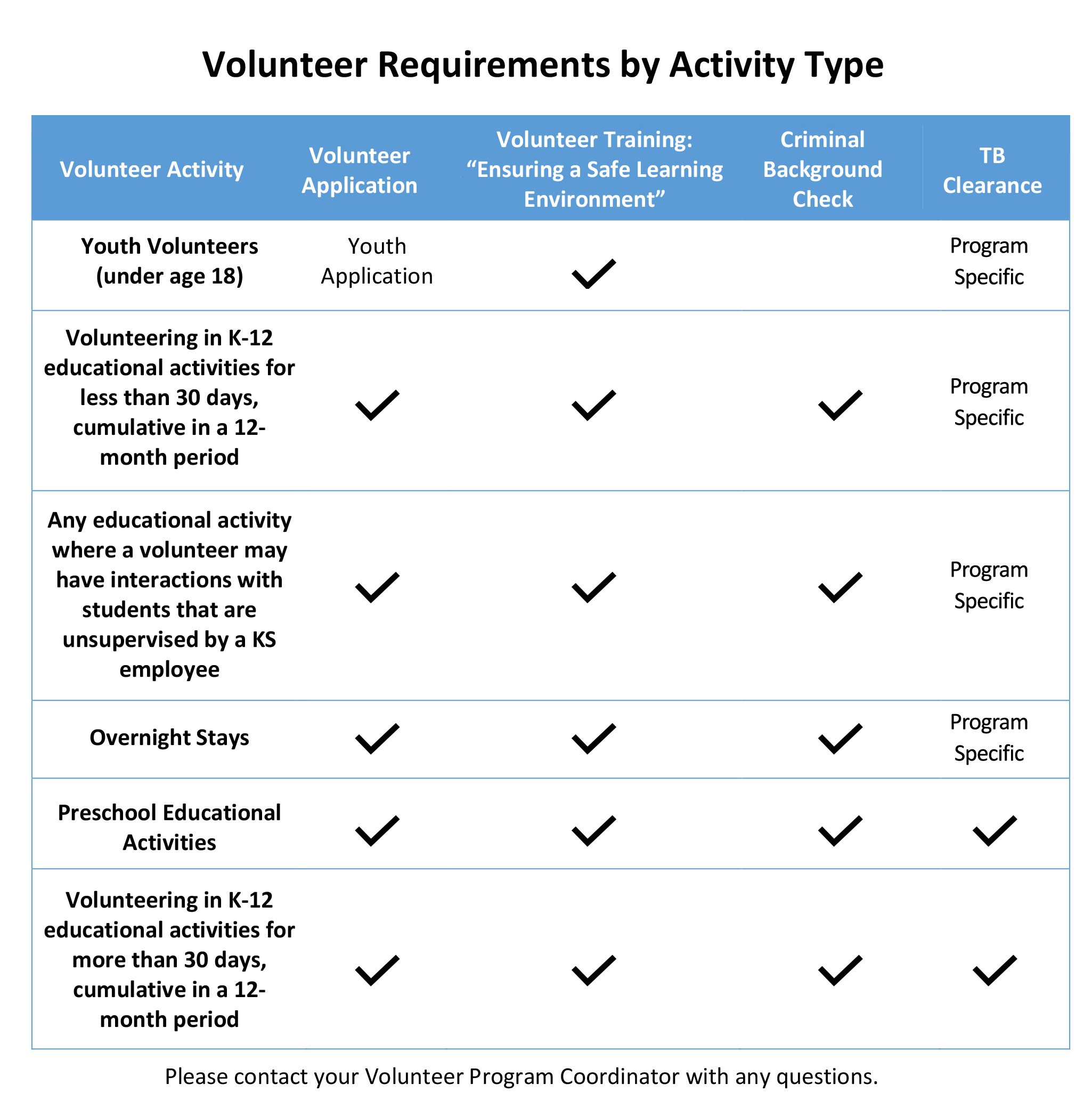 Forms
KS Volunteer Application Form
KS Self Declaration Form
Background Check Process Guide
Need kōkua?

Contact:
Nina Kawamoto
[Administrative Coordinator]

Phone:
(808)842-8322

Email:
kskvolunteer@ksbe.edu