Academics at Māhele Lalo (Grades K-5)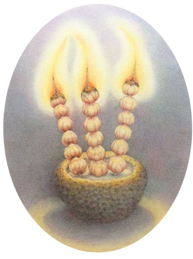 The kukui nut stone lamp illuminates darkness with the light of knowledge. Symbolized by three ihoiho (kukui nut candlesticks) are The Father, Son and the Holy Ghost. Six kukui nut kernels on each ihoiho represent the Kamehameha Schools Maui K-5 grade levels. The poho kukui (stone vessel) in which the ihoiho are placed and the saned in which stand illustrate the strong educational foundation, connection the ʻāina (land), and sense of who they are as Hawaiians that we wish for all our keiki.
Māhele Lalo includes grades K-5 with an average enrollment of 264 students. Grades K-2 has 40 students per grade level and Grades 3-5 have 48 students per grade level. Admission is competitive. The acceptance rate at the elementary school is 1:6. The student body is diverse, with a wide range of interests and talents. Kamehameha Schools' admissions policy gives preference to children of Hawaiian ancestry to the extent permitted by law. Special consideration is extended to Hawaiian orphans and indigents.
---
College and Career Focus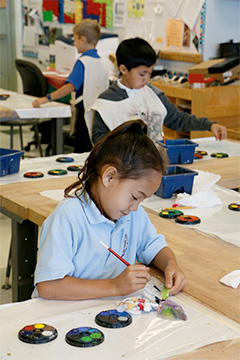 Māhele Lalo offers a rigorous foundational curriculum aligned with college and career readiness benchmarks. KSM kumu and staff support haumāna throughout the process to best achieve college and career readiness objectives measured by the fall, winter, and spring test scores. Students are assigned to homeroom classes and rotate among a wide range of specialty class offerings. The homeroom and specialist courses offered at the elementary school are shared below:
Homeroom
Math
Reading
Writing
Listening
Social Studies
Daily Christian Devotions
Specialist Classes
Visual Arts
Christian Education
Guidance
Hawaiian language & culture
Performing Arts (Music)
Physical Health Education
Science
Technology
Haumāna have daily devotion and are challenged each day through the Homeroom curriculum and three specialist classes each day.
Hawaiian language and culture and science are offered every other day and the remaining specialist classes are on a four-day rotation.
Teaching assistants are available in homeroom classes to provide additional instructional support and grow college and career readiness levels.
The Holomua program provides remedial teaching for reading and writing for selected students.
Māhele Lalo is dedicated to developing:
Students who exceed academic expectations in all grade level content areas based on standards
Students who know and practice Christian and Hawaiian values while embracing and honoring differences of diverse cultures
Students who are creative, self-directed learners who are competent in collaboration, communication, digital literacy, critical thinking and problem solving
---
Technology Program
Each haumana is issued an iPad Air 2 equipped with iOS 9.3 and wireless internet access anywhere on campus. They also have access to apps which provide practice in all of the core and specialist subjects. In class, students utilize these applications to complete projects, presentations and conduct research. All haumāna have a school-based e-mail account and are expected to be responsible digital citizens. All kumu are provided with MacBook laptop as well as an iPad. They have all of the same software applications as the haumāna. Kumu have additional software for classroom management and enhancing communication with 'ohana.
Technology course offerings:
Māhele Lalo
---
Civic Engagement
To meet our vision of Growing industrious Hawaiian leaders, the elementary school believes that all students need opportunities to be leaders and use inclusive practices to make that happen. All students in grades 3-5 get an opportunity to serve on a Hui Ho'okele leadership committee throughout the school year. Students work alongside our Student Activities Kumu to plan and run school events, spirit weeks, and holiday celebrations.
---
Extracurricular and Co-curricular Student Participation
Each specialist will be assigned a grade level per quarter to co-teach Hawaiian Thematic Units (HTUs) with the homeroom kumu. This will occur daily throughout the year to promote Hawaiian Culture-Based Education through E Ola!
All students are encouraged to participate in a sport or belong to one of the clubs or academic teams. Approximately 24 percent of our students participate on at least one sport or athletic team and 51 percent participate in at least one club or academic team.
Po'akolu Ho'oulu Classes (Grades 2-5)
Electric Circuits makerspace
Fishing
Lei Making
Wake Up Warriors morning broadcast
Yearbook Staff
Garden Club
Video Production
Sports and Athletic Teams
Basketball
Cross Country
Makahiki Games
Track
Volleyball
Afterschool Clubs and Academic Teams
Broadcast
Bully Proof
Creative Writing
Hawaiian
Hip Hop
Math Matters
Master Gardener's
Praise in Motion
Robotics
'Ukulele