AT A GLANCE
As Hawai'i's largest private landholder, KS is uniquely positioned to support Hawai'i's transition to clean energy.
As of 2022, roughly forty percent (40%) of commercial renewable energy for the state is located on KS 'āina (land). KS' goal is to reduce energy use from KS operations by thirty percent (30%) by 2030.
In 2015, Hawai'i became the first state to set a deadline— 2045 — for obtaining 100% of electricity from renewable energy sources. The graphic to the left shows how much of the state's total is located on KS 'āina.
A+CET | UNSDG 7 | GRI 203, 302, 303 | AAEF 1.0
Total Electricity Use is broken down into three major categories: (1) Campuses - KSM, KSK, and KSH; (2) Preschools; and (3) Other - Commercial properties, resource centers, etc.
A+CET | UNSDG 7 | GRI 302, 304 | AAEF 1.0
Transitioning to clean energy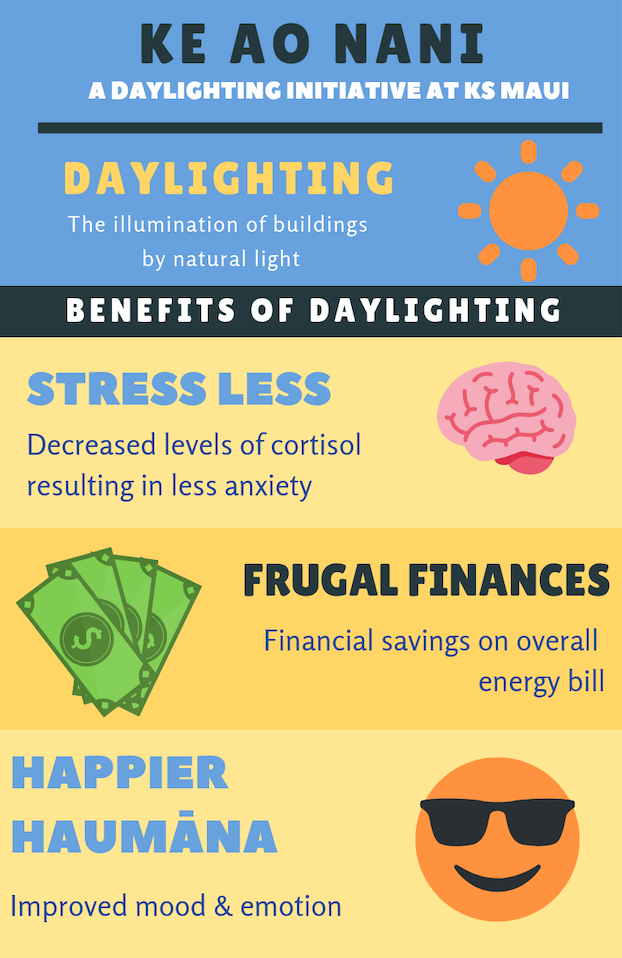 Students saving energy
High school students in the He Ali'i Ka 'Āina class at the KS Maui pitched sustainability ideas, including energy efficiency and conservation, to high-level KS executives.
A group of five students pitched the Ke Ao Nani Daylighting Initiative at KSM. The initiative proposed illuminating buildings with natural light to save energy and money while decreasing stress levels, increasing sleep levels, and improving mood. The Ke Ao Nani brochure can be seen on the left.
A+CET, GWE | UNSDG 4, 7 | GRI 302 | AAEF 1.0, 3.0 | SM2025 M19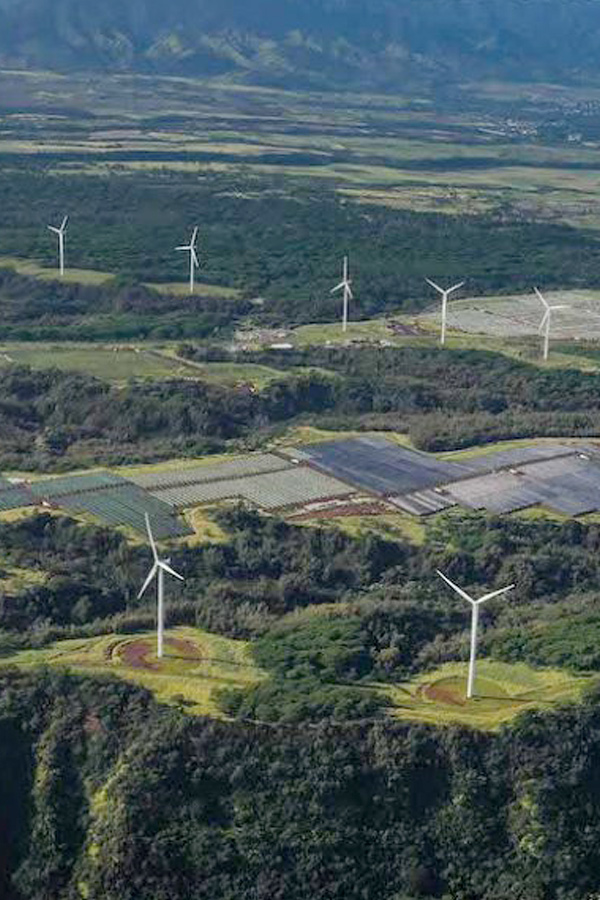 Kawailoa wind and solar
KS lands on O'ahu's North Shore is home to Kawailoa, the largest renewable energy operation in Hawai'i.
The wind and solar projects at Kawailoa produce a combined 118 megawatts of electricity: enough energy to power approximately 60,000 homes.
The project went live in 2019. Read more about the project here.
A+CET | UNSDG 7 | GRI 203, 302 | AAEF 1.0 | SM2025 M19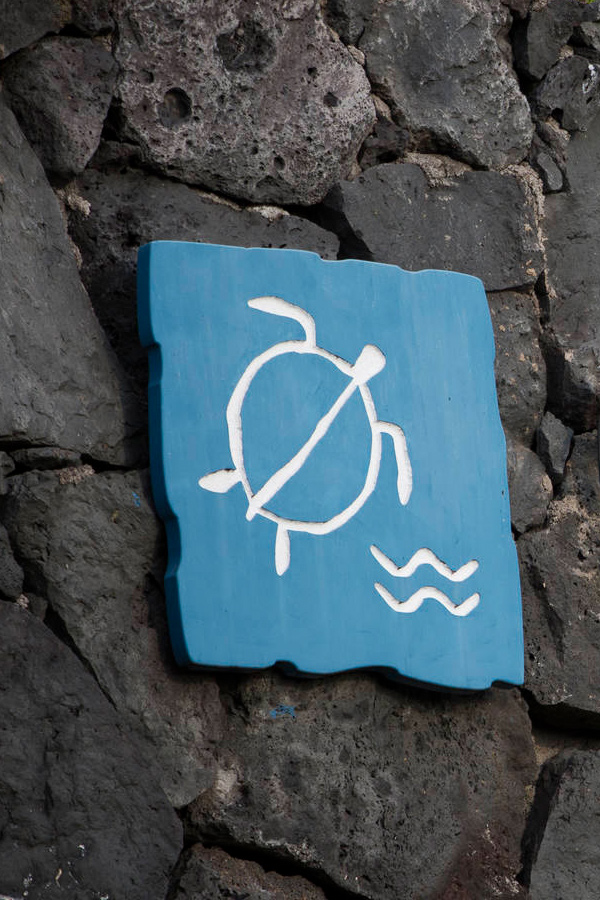 Keauhou Shopping Center
The Keauhou Shopping Center—owned by KS— receives a significant portion of its electricity from on-site solar energy generation. Overall, the project offsets the production of about 455 tons of CO2 annually from a 376-kW PV system.
Additionally, Keauhou Shopping Center has implemented various sustainability initiatives for energy and water. Read more about the Keauhou Shopping Center here or here.
A+CET, NRM, SSC | UNSDG 7 | GRI 203, 302, 305 | AAEF 1.0 | SM2025 M19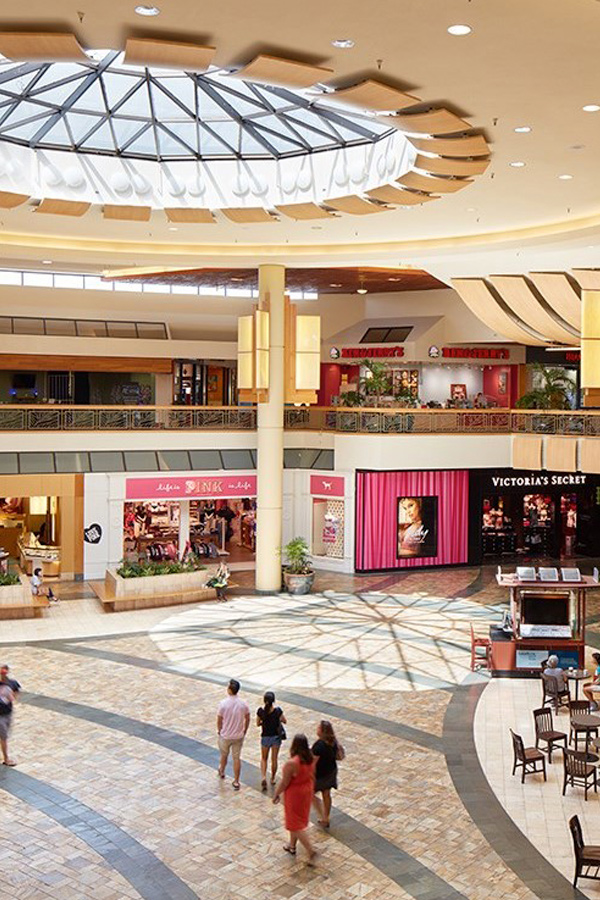 Windward Mall
Windward Mall underwent a large-scale renovation, integrating renewable energy systems and upgrading systems that increase energy and water efficiency.
The renovation saw an installation of rooftop PV solar panels with 974 KW installed capacity, electric metering and air conditioning upgrades, stormwater capture and reuse, and irrigation enhancements. Read more about Windward Mall here or here.
A+CET, NRM, SSC | UNSDG 7 | GRI 203, 204, 302, 305 | AAEF 1.0 | SM2025 M19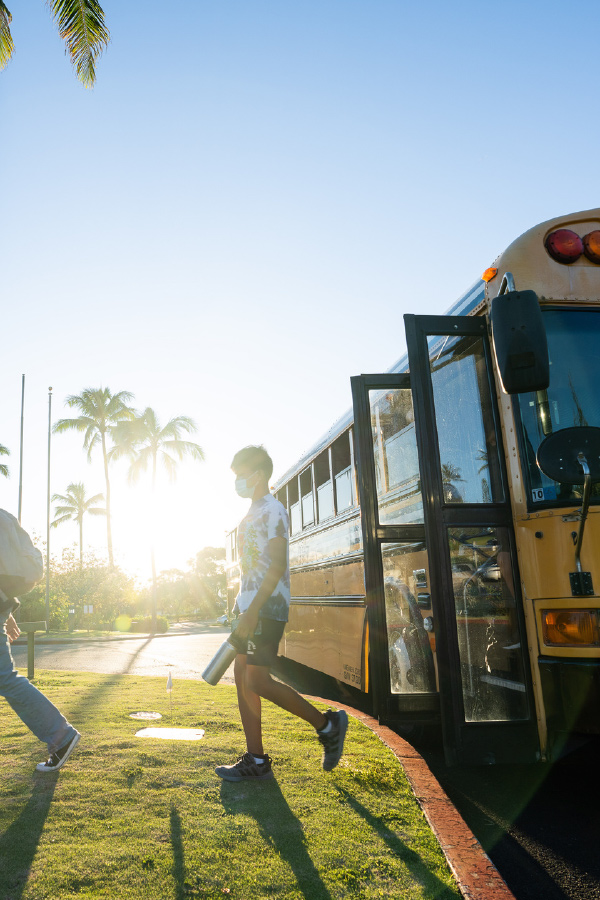 Clean transportation
KS is exploring clean transportation opportunities including installing electric vehicle charging infrastructure and piloting new and innovative ways to reduce fossil fuel use.
KS Kapālama is undergoing an electric bus pilot in partnership with HECO and EPRI. The campus looks to transition more passenger vehicle fleets to electric, and is also looking at opportunities to fuel charging stations with solar power.
A+CET | UNSDG 7, 11 | GRI 302, 305 | AAEF 1.0